EVERYWOMAN 6 or 12 WEEK PELVIC FLOOR + CORE REHAB PROGRAMME
Welcome to 'Everywoman' – THIS IS WHERE IT ALL STARTED!! Our FOUNDATION, GROUND-BREAKING 6 or 12 Week Pelvic Floor and Core Health programme that truly is a gift that keeps giving and one that we feel EVERY WOMAN should experience it at least once in her lifetime!
Enjoy 6 or 12 weeks of education and REVOLUTIONARY 'WHOLE BODY' Pelvic Floor and Core exercise, layered with delicious nutrition and self-care guidance whatever life phase you're in that's been getting AWESOME RESULTS SINCE 2013!
The programme is adaptable for virtually all women and is designed to bring you 'back home' to your amazing body with your Pelvic and Core Health at the centre of our focus.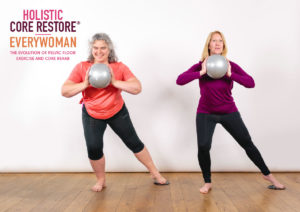 WHO IS THIS PROGRAMME FOR?
✔️Are you a woman who wants to know more about her Pelvic Floor, Core and TAKE CONTROL of her overall health?
✔️Have you experienced the odd leak when jumping, running, laughing or sneezing and know that that's a sign that you need to pay attention to your Pelvic Health?
✔️Are you a woman that wants an easy to perform ANYWHERE, modern and effective way to strengthen her Core and re-establish its role as part of her whole body?
✔️Do you have a small Diastasis Recti (Tummy Gap) that you want to heal?
✔️Do you have 'lower back pain' issues that you've been told is due to a 'weak Core'?
✔️Do you want a better looking belly but know it's an inside out job so need to go deeper and work smarter than just doing?
✔️Are you ready to prioritize this area of your health and learn ESSENTIAL skills to last you a lifetime?
✔️Do you want to learn the importance of food for not only fat loss but nourishing your deep health?
✔️Have you seen a clinician about a low level Prolapse and been told to 'do your Pelvic Floor exercises' as part of your management strategy?
✔️Are you ready to learn the importance of 'rest' and 'self-care' as part of your wellness journey?
If you've answered YES to any of the above questions…..THIS PROGRAMME IS FOR YOU!
WHAT'S INVOLVED?
On application to join this offering, you'll be asked to complete our Pre-Screen to decide if this programme is right for you because our job is to ensure that you get the RIGHT HELP! If you're a good fit for this programme, your Coach, Becca, will begin the 'take-on' process whether you are working LIVE (in-person) or virtually.
Although we have our UNIQUE 'system', this and all the offerings are ALWAYS adapted and made bespoke FOR YOU! Your coach is taught to completely tailor their advice to your needs and 'meet you EXACTLY where you are now'. We support you wherever you are in your journey with real-world solutions over a time-frame that suits your needs. This programme can be experienced as part of a small group or 1:1.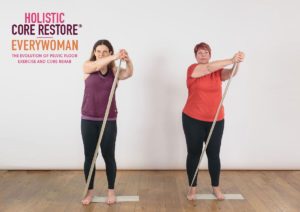 WHAT'S YOUR NEXT STEP?
You will be asked to complete a comprehensive prescreen. Once you've been screened and it's agreed that the programme is the right fit for you, you'll enter the world of Holistic Core Restore® whereby your Coach will take you through our Everywoman programme for either 6 or 12 weeks. This programme is a mix of Functional Exercise, Supportive Nutrition, Breathwork, Alignment Work and Self-Care/Lifestyle Revision – overall, a deep and precious gift that every woman deserves and needs in her lifetime. Are you ready to give yourself a gift that keeps on giving?
As well as your weekly meeting with your Coach, you are also deeply supported by the online homework that you access via our state-of-the-art homework portal where you journey through a weekly-progressed workout led by programme creator Jenny Burrell and are further supported by your Coach.
Additionally, I am also a Women's Health Physiotherapist. As your coach, I'm well aware that incontinence issues sometimes need to be referred to medical professionals and will facilitate and support you connecting with the right specialist to get you what you really need. This may involve the need to see you for a physiotherapy assessment/treatment programme. This programme is in the business of solving problems, giving women a voice to ask for help and not glossing over your concerns.
How to Book
Course fees are required to secure your place and can be made via Paypal or revolut.
⭐️⭐️⭐️Payment in x3 installments available. Just contact us to set up your payment plan ⭐️⭐️⭐️
If you have any more questions, please do not hesitate to contact me.
Payment plans available on request.
I look forward to embarking on this journey with you.
*** COURSE BOOKING OPEN***
Our next course commences on Monday 20th January 2020 at 8-9pm at Governor's Meadow Drama Studio (the OLD Bayside school). Limited places availa